Use this page to discuss script 3477 bad apple: game
Add constructive comments, bug reports, or discuss improvements (see the guideline).
Do not document the script here (the author should do that on vim.org).
This page may be out of date: check the script's vim.org page above, and its release notes.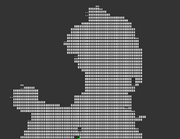 This script aims to use vim to play the famous touhou donjin MV bad apple[1] The picture is screenshot. Current version does not have music, and its hard to synchronize music with text accurately.
Any chance of a brief explanation of what this is about, and how the image helps? JohnBeckett 06:15, March 9, 2011 (UTC)
Yea, I'm confused as well. What's up with the image?
It's a screenshot of the characters in VIM playing a video -- the girl is lifting the apple to her mouth... 17:41, March 19, 2011 (UTC)
Ad blocker interference detected!
Wikia is a free-to-use site that makes money from advertising. We have a modified experience for viewers using ad blockers

Wikia is not accessible if you've made further modifications. Remove the custom ad blocker rule(s) and the page will load as expected.